Winter fly fishing can go one of two ways, very cold, wet and miserable, or warm, dry and enjoyable! If you're serious about fly fishing, you're down to fish during the winter. Not only is winter time fly fishing a great opportunity to hit water that would otherwise be heavily pressured, the bite can be incredible all year long.
When it comes to finding fly fishing gear in general, there are things you can go without. Buying cheap winter clothing is probably not an area we'd try to save money in, but that's just because when we get a chance to fish we're not looking to go home early!
If "staying on the water longer" comes down to one thing, it has nothing to do with the bite and everything to do with your winter fishing gear.  Now I will say depending on whether the fish are biting or not can play a role in how enjoyable the fishing is!
Overall though, fly fishing in the winter isn't a joke.  Choose the wrong gear for the water and no amount of evening festivities will turn your day around..
Here is the best gear for your winter fly gear checklist
Winter Fly Fishing Gear Checklist
Everything on this list is recommended to purchase from my perspective.  It's going to provide you with the best comfort for fly fishing while the snow and cold keep others cooped up inside. I've spent many a cold afternoon on the water, and plenty of time ice fishing with cheap gear. Problem is, cheap gear is cheap gear. So when you save a buck, it's coming at the expense of your own comfort.
Our goal with this site is to save you money where you should save money, and invest where you should invest in good winter fly fishing equipment. It is not to say that all of this gear is super cheap, but it's some of the best.
Let's dive into it.
Compass 360 Point Guide Z II Breathable Chest Waders
The Compass 360 Point Guide Z ll waders are probably going to be one of the best purchases that you will make for fly fishing in the winter time.   They're made with premium quality material that is breathable but resistant to water.  Bottom line, you aren't getting water in your boots when you walk into the river.
These waders feature two chest pockets to throw some of your favorite trout flies in.  The pockets also have a built in hand warming system to keep your fingers from freezing for after you tie a fly knot or whatever.
The Compass 360 Point Guide Z ll also come with a one year warranty.  If you for some reason have any issues with them they're as long as it was a manufacture defect.
An elite pair of waders is a very good investment for winter fly fishing.  They might be the difference between frostbite on the river and staying warm.
Korkers Terror Ridge Wading Boots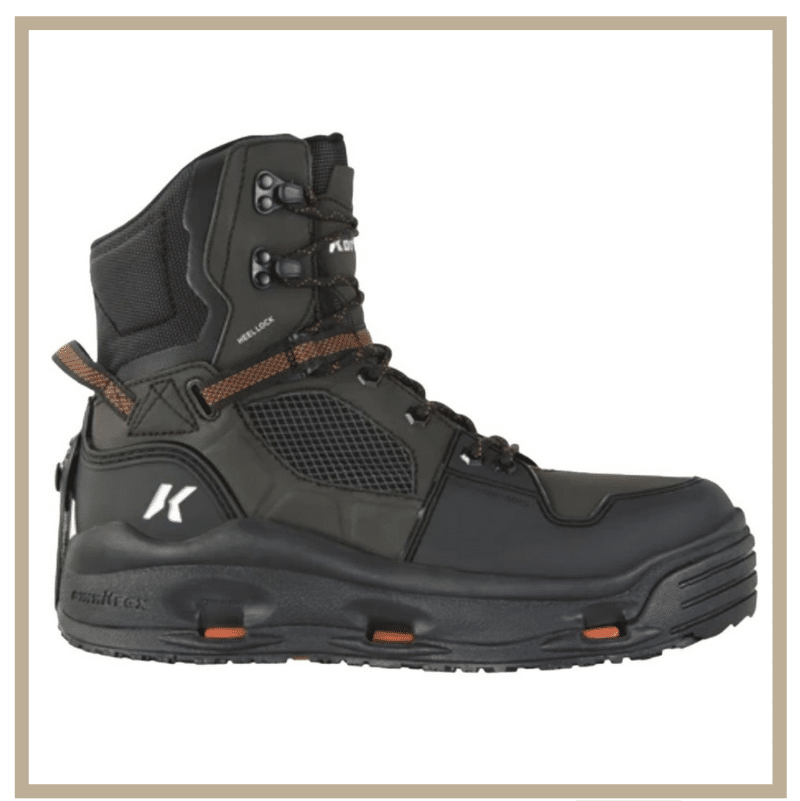 The Terror Ridge wading boots from Korkers are some of the best boots that you can get for winter fly fishing.   They aren't very expensive, but are a high quality pair of boots.  They also have interchangeable sole system for better traction depending on your situation.  The midsoles also have channels for water to flow through, keeping your boots dry and lightweight.
Lastly, the Terror Ridge boots also have a super comfortable fit.  They feature a heel lock design to keep your foot in place while you are walking around in the water.  The padding in the area of the Achilles is also reinforced for better stability.  But not too much where it's so stiff.  There's a perfect balance between no ankle support and a 2×4.
Orvis Foldover Gloves
Fly fishing with cold hands is no fun.
Quit skimping on gloves for the river. I get it, nobody likes fly fishing in gloves, but you chose to hit the river during the winter. For the record, I typically take two pairs of these for the water.
They're reasonably priced, you won't go wrong here. Easy to manipulate your fly line, easy to flip back and tie and best of all they're not super bulky getting in the way of anything and everything you do.
Now, for the record, gloves are really more of a personal preference thing for most winter fly fishermen, but these flip backs from Orvis more than do the trick. I've heard of others using a full neoprene like the glacier glove, for me personally taking gloves on and off gets to be quite the hinderance but it is an option.
Drake Base Layer Pants
The best kept secret on this entire list, I actually got this recommendation from a friend of mine who is a pretty hardcore winter water fowler.
At $50-55 (depending on where you get them), these pants were pretty much built for life under your wading system. As you can see, they won't ride up during the day.
These pants are designed to wick moisture from the skin and it actually works pretty well.
Cover them with something a bit lighter or a second pair (depending on where you're going and the temperatures) and you won't be more comfortable in freezing water.
I've also had really good luck with the Under Armour Base 3.0 leggings. I wore them on an Alaskan moose hunt and they performed well.
Under Armour 3.0 Base Layer Top
As I just mentioned above, I wore a complete Under Armour 3.0 base layer system while on a 11 day hunt in Alaska and absolutely loved it.
The 3.0 system is built for "extreme cold", however, in trying to stay as light as possible for anything under 30(ish) degrees I'd stay with the 3.0. It's never a bad idea to add something a little lighter to your bag or even your pack, just in case you bump into a little sun on the river, but for the most part this setup is going to suit the average (and even extreme) fisherman just fine.
And on top of it, the 3.0 isn't as expensive as it used to be.
Must buy for any outdoorsman or woman.
Simms Freestone Wading Jacket
The Simms Freestone Wading Jacket is an absolute must for winter fly fishing.  It's lightweight, waterproof, and will keep you warm throughout your time on the river.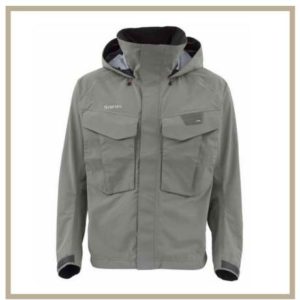 This jacket has three layers to it, all designed with the fishermen in mind.  The layers allow for heat to vent out of the jacket, to keep you from overheating.  It's very comfortable and you'll stay nice and cozy despite the weather.
Like the name says, this jacket is also for wading in to the water without getting wet.  All of the seams are closed 100% Simms claims.  It's also very practical for fishing in, this jacket has two pockets up on the chest to store fly boxes and other gear.
Plus, as a bonus, this jacket has Simms warranty that'll fix any manufacture defect free of charge.  If you are looking for an elite level jacket for winter (or any bad weather) fishing here you go.
Simms Ambidextrous Fishing Sling Pack
Some fishermen have used and loved a fishing sling pack, I'm one of those guys.  I'm a big fan of how simple it is to spin the sling around on my back to my chest to grab something, then spin it back.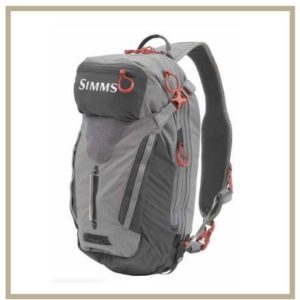 This pack has 18 liters of storage so it has some space to fit a bunch of stuff.  It's water resistant to keep your gear dry throughout the entire day.  It's also made by Simms, and Simms doesn't mess around with their gear.
This pack has a lot of pockets throughout the storage plus a place to hold your fishing net.  If you want an easy to carry, gear at your disposal, water resistant pack – get this one.
Related: Must Have Fly Fishing Gear For 2020
Tacky Flydrophobic Fly Box
We'd be remiss if we didn't add the Tacky Flydrophobic Fly Box to our must have winter fly fishing gear checklist. The thing about this box that sets it apart from basically every other fly box on the market is the fact that it takes innovation to the fly box. Wait, but we didn't need more innovation on fly boxes.
That's what you thought. This box dries flies from the inside out, while preventing water from entering.
When it comes to winter fly fishing, as far as your boxes are concerned the worst thing that could happen is broken plastic. We've had our original boxes from Tacky (long before they were acquired by Fishpond) and they've made it through 7 seasons both summer and winter.
#2 Fly Box (but.. might be #1)
Tacky "Flydrophobic" Box
The Tacky Flydrophobic fly box is innovation you both thought wasn't possible, nor necessary, but in fact.. IS. Out of respect to the OG Tacky Box, this get's our #2 rating, but.. it's probably the correct best box on the market.
Check Price on Amazon
Thank you for your support! We may earn a small commission (at no additional cost to you) if you purchase through links on FlyFishandCamp.com.
Winter fishing can be either a blast or miserable
A lot of it is going to come down to what gear you are taking out to the water.  If your gear is going to keep you wet and cold the entire time, it's going to be difficult to enjoy yourself.  This list should give you a couple pieces of gear that'll help you stay nice and warm when the weather hits a little bit harder than you planned on!  Good luck my friend and tight lines!