When you spend a lot of time on the river, getting a quality pair of wading boots is a must!  They can make or break a fly fishing trip and potentially leave your feet freezing or all cramped up!  Or, the ladder where your feet are nice and cozy while you reel in the monsters.  Which would you prefer?
If you've got a great pair of wading boots, fly fishing, or any trip down to the river is going to be very enjoyable.
Here are the 3 best wading boots of 2020
What to look for in wading boots
When you are looking for a new pair of wading boots, keep these few factors in mind.
Comfort
Durability
Waterproofness
Looks
Grip
Weight
Comfort and durability were definitely two of the most important factors that decided which pair of boots made the top three or not.  I also looked at how well the boots resisted water and how quickly the boots dried after they were taken out of the water.  Finally, looks, weight and grip were the last features that were looked at to decide the best wading boots of 2020!
Best Wading Boots of the Year
Simms G4 Wading Boots
The Sims G4 Wading Boots are the best wading boots on the market today.  They're at the top of my list of only three for a reason – they're amazing.  Seriously.
Comfort
They're extremely comfortable.  Like, dip your feet into a puddle of warm butter comfortable.  I actually wouldn't recommend that… Not sure where that came from, but your feet will fit these boots like a glove.  They also have nice ankle support but also not too much where it feels like you are walking around in with boards attached to your feet.
"These feel super comfortable and discomfort is not something that'll be nagging you while on hour 5 of a killer hopper hatch." 

– Madison River Fishing Company on the Simms G4 Wading Boots
Not only is the foam comfortable, Simms intentionally put easy speed hooks on the top of the boots for tight and easy lacing of the boots.   This also adds comfort to the boots because they won't pinch your ankles at all.  One issue with previous BOA boots was that it constricted the ankles a bit, with the speed hooks on the Simms G4 boots, that issue was resolved.
Durability
If you are looking for extremely durable wading boots, here you go.  You might pay the price for the durability of these boots, but they'll last you a very long time.  They're made from Simms top notch manufacturing, but also include durable materials such as highly abrasion textile mesh on the sides and a molded protective cap on the toe.
You really aren't going to find a stronger or higher quality build of fly fishing boot in the world.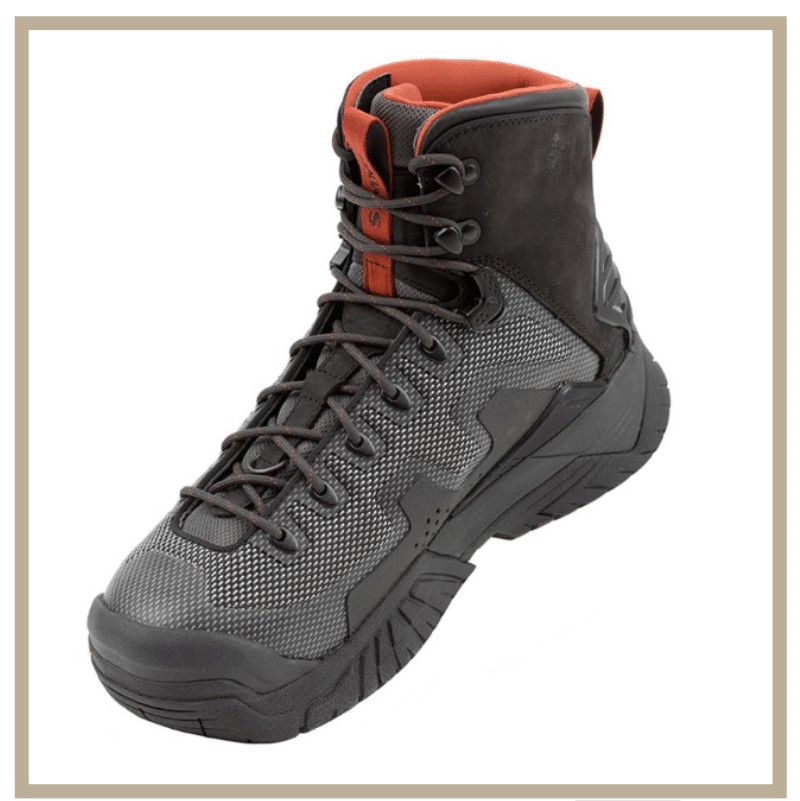 Waterproofness/ Extra
I almost feel dumb putting this category in the article ;).  If it hasn't been obvious that these boots are waterproof up to this point, let me tell ya – they are.  I'm just going to leave that at that.
I personally really like the looks of these wading boots, they are sharp.  That is just my opinion although.
These boots don't have the BOA system on them, but they are extremely easy to put on.  These boots have eyelets down the majority of the boot and easy hooks on the top.  This allows for you to put your boots on super quickly and efficiently. Epic.
Final Thoughts on The Simms G4 Wading Boots
At the end of the day, these wading boots are some of the best wading boots that you can buy for fly fishing, or anything that you might do on the river.  They are very comfortable, durable, look good, and are easy to put on.  I guess if you want to count waterproofness, they are that too.  Overall, nice set of wading boots here.
CHECK PRICE ON SIMMS  CHECK PRICE ON AVENTURON
Related Article: Our 3 Best Fly Rod and Reel Combos For Less Than $300
Korker's Terror Ridge Wading Boots
The Korker's Terror Ridge wading boots are the second best wading boots that you can purchase today.  These boots are backed by Korker's rock solid guarantee to ensure that the boots are great!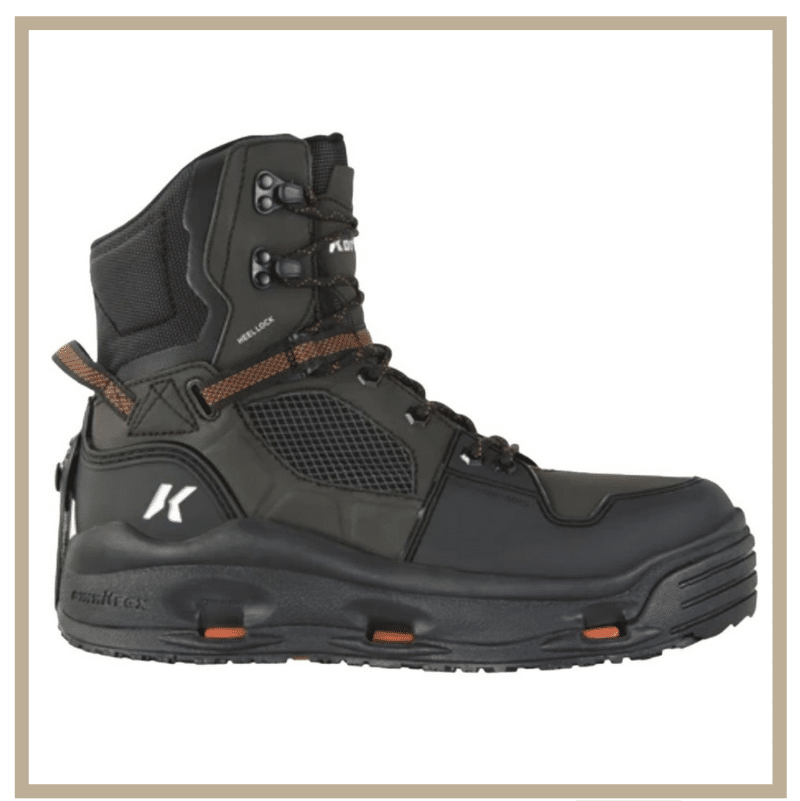 Comfort
The Terror Ridge boots are very lightweight and and comfortable.  They feature a heel lock system that ensures that your heel is locked into place as you start hitting the rivers.  Korker's also padded achilles area of the boot for extra stability and comfort in general.  You won't have any issues of rolling ankles with these boots…
Durability
These boots are extremely durable as they are made of strong synthetic material on the boots.  Korker's advertises that this synthetic is tougher than regular leather and I have reason to believe that they aren't lying.  The boots also have a tough TPU caps on the toes of the boots.  Bottom line here, they aren't going to break down on you anytime soon.
Waterproof/ Extra
These boots have a cool feature that actually allows water to flow through the soles of the boots minimizing dead water weight in the boots.  In terms of other waterproof features, these boots have hydrophobic materials that quickly dry the boots out.  This helps in the prevention of the spread of invasive species also.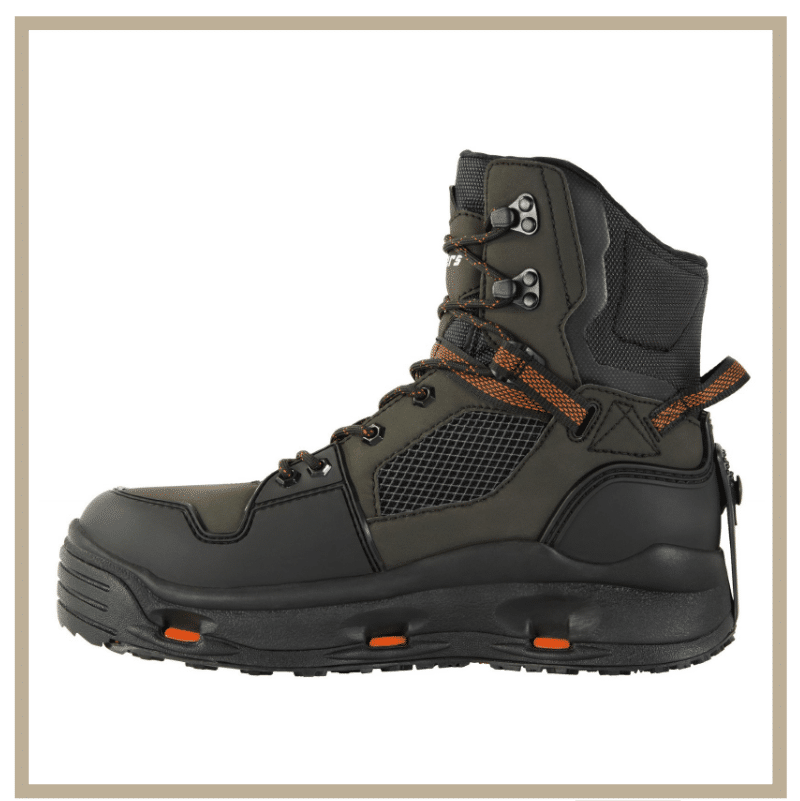 Final Thoughts on The Korker's Terror Ridge Wading Boots
I really like these boots as the second best wading boots in 2020, especially for the price.  They're not that expensive compared to the Simms G4 boots and have a lot of the same features such as premium comfort, durability and performance.
CHECK PRICE ON AVIDMAX  CHECK PRICE ON AMAZON
Related Article: Best Fly Reels Under $300
Orvis Pro Wading Boots
The final and third best pair of wading boots in 2020 are the Orvis Pro wading boots.  They are designed specifically for fly fishing and actually feature Michelin tire technology for traction on the bottoms.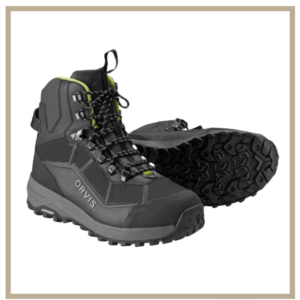 Comfort
These boots are some of the most comfortable fly fishing wading boots that you can purchase.  They feature OrthoLite insoles for maximum comfort and arch support.  They also have a cast PU upper for added comfort, support and abrasion resistance.  The design is a higher cut wading boot for additional support in the ankles as well.
"You can wear these boots all day without your feet feeling beat to hell."

– Spencer Durrant of The HatchMag on the Orvis Pro Wading Boots
Quality
The Orvis Pro wading boots are a durable pair of boots.  They feature some great cast PU in the high use areas of the boots and the uppers, clarino micro fiber materials in the uppers, and Phylon midsoles for long lasting durability.
They're also built by Orvis that standardly creates elite level of fly fishing gear.  They definitely have a reputation for great gear.
Waterproofness/ Extra
The Orvis Pro wading boots are very efficient at drying themselves out.  Orvis also designed these boots so they would have minimal seams, this allows for a longer lasting pair of boots.  These boots also have standard boot lacing with the eyelets and whatnot.
One aspect of the Orvis Pro boots that I really love is that they are extremely grippy.  Because Orvis partnered with Michelin, these boots have an alleged 43% more grip than other boots in competition.  How accurate that is, it's tough to tell, but they're definitely a grippy pair of boots.
Final thoughts on the Orvis Pro wading boots
These wading boots are extremely high quality.  They're comfortable, grippy and very durable.  You won't be needing a new pair of boots any time soon if you go with these ones.
CHECK PRICE ON AVENTURON  CHECK PRICE ON AMAZON
Related Article: How To Choose The Right Fly Fishing Vest
Those are the best wading boots you can get for fly fishing
If you do decide to go with any of these wading boots on this list, they surely are going to provide you with great comfort and durability.  Wading boots can make a break an awesome fly fishing trip and you wouldn't want to leave it up to chance that your boots are no good.
I hope this article helped you out!  Tight lines!