There are few places as picturesque to fly fisherman as the mountain backdrop and flowing rivers of Wyoming. The area has a storied history of world record fish and its rivers and creeks are filled with once in a lifetime opportunity. This year you should plan a DIY fly fishing trip to Wyoming (circumstances are a little bit weird with the Covid – 19 virus although)!
Regardless, fly fishing has been growing at an incredible rate over the past decade and for a good reason, it's fun!  It can be a challenging sport to master, but the first fish you catch on your fly rod will be one you remember for a long time!  If you are a veteran of the game, get someone close to you into fly fishing!  Maybe bring them on this DIY trip!
There will always be a passion for the outdoors amongst some people and the best way to show that is to bring someone you know fly fishing!
I went on a little rant there, let's discuss how to plan your trip.
DIY Fly Fishing Wyoming: How To Plan Your Trip
If you want to find your way into Wyoming and have a once in a lifetime fly fishing trip you are going to need to plan a few things. It might seem intimidating but it's more accessible now than it ever was. Let's break this DIY fishing trip to Wyoming down into some easy to understand parts.
Planning Your Trip from Home
The first steps of any trip are planning from the comfort of your own home. You need to walk yourself through your entire trip. Start to finish.
Here are a few things to consider for the planning phase of your trip.
Guide?
Flying
Transportation
Fishing holes
Gear
Capturing the moment
Emergency
At the very least you should have an answer to all the bullet points above. Don't forget to let someone you know about your trip. They should know where you are going, when you are leaving and when you should be home.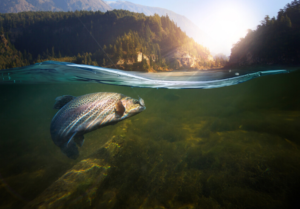 Are You Going to Hire a Guide?
Depending on your experience with this kind of fishing and the area, you might want to hire a guide. A guide will undoubtedly increase your odds of having a great experience. Guides know just where to put you on the water and will assure you are at least putting your flies on top of fish.
However, guide services are expensive. Its also very rewarding to travel to a new destination, study the water, hatches, conditions and land a big fish off your own experience. It speaks to the pioneering spirit.
You should have lots of fly fishing experience if you are going to try and go it alone. Also, these are very wild areas, so you need to consider that. A guide can also keep you out of danger.
http://www.grandtetonflyfishing.com/
Flying with your Gear
In most cases you are going to bring some of your fly fishing and hiking gear on a flight. These are probably things you are not used to traveling with.
You must be careful about blades and things in your hiking and fishing gear if you wish to carry them on the airplane.
A four piece fishing rod can be carried on and I would encourage you to carry on all of your essential gear.  This is to assure you that your new fly fishing rod and other expensive gear doesn't get lost.
Transportation
Wyoming is massive. You don't wanna be using UBER to travel hundreds of miles a day. I would recommend renting a car to get around. This will give you the freedom to fish different areas and maybe even stay at multiple locations.
If you are going to head out to the big sky portions of the nation you should take advantage of that freedom and drive where you want, when you want. You are also going to be near Yellowstone so that might be something to consider. There is some good fishing to be had in the National Park along with the sights.
That said, the Snake River runs right next to the Jackson Hole Airport so there is a serious fishing opportunity close to the airport, too.
The Gem of the Snake River
Not only does Snake River run right up to the airport it's also one of the best fly fishing destinations in the nation, if not the world. It is the top destination for dry fly fishing with it's diversity of hatches and impressive populations of trout.
Snake River is also one of the last places on earth that you can the Snake River Finespotted Cutthroat Trout. Reeling in one of these beauties is an experience that you won't forget.
If you are flying in, you should certainly consider Snake River as a place to spend some time on the water.
Locations
If you aren't going to be fishing the Snake River (there's tons of options) consider getting an onX subscription for Wyoming.  It shows where public land lines are, access points, streams/ rivers and other cool features that will help you out.
What I like to do it go to an area with the app and start searching for potential rivers and streams to fish out of.  When I find an area that has enough fishing holes, I look for somewhere to make a base camp.  That way I can sleep in one spot each and drive to different locations in the morning.  Optimizing my time the best.
Gear
This one is important.  Is all of your gear up to date and ready to go?  These are questions that should be looked at well before you leave.  If you are interested about new gear, I wrote articles on the best fly rod, reels, packs, and vests if you want to scan for something that you know you need off the top of your head.  Otherwise, make sure to go out to a local stream and get the entire setup going!  The last thing you want is to find out that your reel sucks out in Wyoming and you don't have a back up plan.
Your Big Catch
Making the journey to one of the most coveted fly fishing destinations in the world means you should also consider how you want to capture that trip in time. Depending on your background and your fly fishing history, you might catch the biggest trout of your life while on your DIY fly fishing trip to Wyoming.
While the old methods of capturing that trophy fish meant creating a wall mount, you have many options these days. You can take high quality photos with the phone that's in your pocket.
You might also recruit a drone to take footage in real time. A drone can follow you and capture your casts, strikes and that heroic battle to land a once in a lifetime fish.
Make plans to journal or document the entire journey with something like Instagram. Make these plans ahead of time so you aren't scrambling when you land that first Cutthroat of the trip.
Emergency
Remember to bring some survival gear.  Anything can happen on the river and you'll want something to back you up!  If you aren't bringing a complete survival pack, at least bring a fire starter and a cheap reflective thermal jacket or tent.  These are small essentials that one hundred percent should be brought out on the trip.  Seriously, if you forget anything on this trip, don't forget your survival gear!
It's going to be awesome!
Planning a DIY fly fishing trip to Wyoming in 2020 is going to require some planning on your end. You can do the bulk of it from the comfort of your own home. Of course, your budget is going to dictate things like trip duration and quality of stay.
Drive yourself through this beautiful state and consider a guide to take you and put your right on top of fish.
There are few places that fly fisherman daydream about like Wyoming. The natural beauty and the quality rivers in Wyoming makes a trip like this worth your effort, time and money. You are going to find yourself nestled in the Rockies, stripping in dry flies and chasing some of the most beautiful fish on the planet.  I wish you the best of luck my friend!